April 9, 2019 |
Peter Neptune MS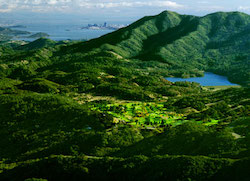 I spoke at a tasting event and dinner at the beautiful Meadow Club in Fairfax, CA last Monday, April 1st. We featured wines from New Zealand and Australia.
We started off with a casual reception, pouring wines for the arriving guests. We featured a wonderful selection of wines, including a Tasmanian Sparkling Rosé from Jansz, which was a huge hit; Neudorf Marlborough Sauvignon Blanc, classic grapefruit and passion fruit flavors; Pikes Clare Valley Riesling, a dry Riesling in every wat that won over many new fans; Vasse Felix Premier Chardonnay from the Margaret River region of Western Australia, which demonstrated a cool Old World vive; The Ceres Central Otago Pinot Noir, vibrant and delicious; Jim Barry "The Cover Drive" Coonawarra Cabernet Sauvignon, spot on for the style; Wirra Wirra McLaren Vale Shiraz, big, juicy, and friendly; and perhaps the hit of the tasting the Yalumba Bush Vine Barossa Valley Grenache, which surprised a lot of the tasters with its precision and focus, as well as undeniable drinkability.

We then sat down for an amazing dinner prepared by the chef of the club, Emmanuel Jamotte, who has been there for more than 25 years.
We started with an Australian Barramundi filet, over a vanilla sauce with veggies. What a preparation! One if the best fish dishes I have had in recent memory. I paired it with Ceres Central Otago Pinot Gris and Clearview Estate Reserve Chardonnay. Both wines were terrific – the Reserve Chardonnay lived up to its name in every way – but the Ceres Pinot Gris was just perfect with the fish. I have always felt that Pinot Gris is actually the best white wine style produced in NZ, and this wine had it all – body, palate weight, creaminess, yellow apple and pear fruit – what a wine! I was very gratified to see that this wine, and the Big Sky Pinot Noir, received the most orders at the end of the evening.
The next course was a perfectly prepared Cassoulet. I paired it with the Big Sky Martinborough Pinot Noir. Perfect pairing, with the Big Sky matching brilliantly with the duck confit, every bite begging for a sip. This is a really nice bottle of Pinot Noir, with vivid red fruit and perfect balance.
The main course featured a double cut of rack of lamb, exact medium rare, with a side of crazy good truffled potatoes gratin. We brought out the big guns – two of the top examples of Cabernet/Shiraz blends from the Barossa Valley of South Australia. This was a tough one to call – and sales proved it as we sold an equal amount of both wines. The Henschke Keyneton Estate "Euphonium" is a blend of Shiraz, Cabernet Sauvignon, Cabernet Franc, and Merlot. It is both elegant and concentrated, with tremendous presence on the palate. The Yalumba "Signature" is roughly 50/50 Cabernet Sauvignon and Shiraz, and it is a powerful wine with a lot of weight and grip. They both paired perfectly with the lamb and for me it would be a toss-up as to which was the top wine.
To finish a perfect evening we had a lemon cheesecake, and, just because we could, we paired it with a "stickie", the Yalumba Museum Muscat. Aussie stickies are a national treasure and one of that country's vinous gifts to the world. Really a dessert on its own, this sweet wine (243 grams per liter of residual sugar!!!) bombards the senses with a complex melange of caramel, toffee and chocolate.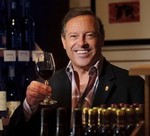 Thank you to Jack Grehan, the GM of the Meadow Club and his staff for putting together such a wonderful dinner. Cheers!