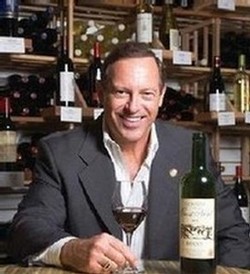 If you've ever wanted to hear firsthand from a Master Sommelier on the latest and greatest wines, you'll want to tune in to Peter's Picks. Every week, DouxVin's Peter Neptune will choose one wine to feature, diving into its origin, taste, aroma, and more. With regular exposure to countless wines at professional, trade and other wine events, Peter is constantly on a wine discovery journey that he would like you to share with him. DouxVin is focused on procuring wines that are eclectic, small-batch, and family-owned, so you know the wines featured on Peter's Picks will undoubtedly be interesting and distinctive.



My pick this week is a wonderful Pinot Noir from the Brittan Vineyard, located in the McMinnville AVA of the Willamette Valley of Oregon. The Brittan vineyard is comprised of roughly 28 acres of hillside vineyard on fractured basalt soils. The Gestalt block is a tiny section of southwest-facing vines that bear the brunt of the wind that comes in from the Van Duzer Corridor, resulting in small, concentrated berries, and a yield of only 1 ton per acre. I tasted this wine for the first time last week and it was a revelation. A medium ruby in color, the wine has expressive aromas of black raspberry and plum, with truffle, dried sage and anise. It is on the palate that this Pinot Noir really expresses itself, with deep fruit and a distinct volcanic minerality, enveloped by a gorgeous, velvet mouthfeel and very fine-grained tannins. This is at once intellectual and sensual. A truly outstanding wine that is drinking perfectly now and will cellar for up to 10 years. Only 370 cases produced. Congratulations to winemaker Robert Brittan for this great effort.
Available only in 3-Packs for $185 (with free Bay Area delivery) ORDER TODAY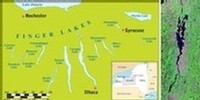 The Finger Lakes region of New York State is, without question, the premier growing area in the United States for the noble Riesling grape. Forge Cellars' first vintage was in 2011, and they have amassed a litany of positive press since then, making the Top 100 List of Wine Spectator last year with their Riesling Classique (Winemaker Louis Barruol had the distinction of landing two wines in the Top 100 – the Forge Riesling at #31 and his Ch. de St. Cosme Gigondas at #5!)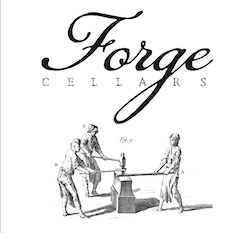 Forge Cellars is made up of three like-minded and passionate friends with a common goal: to grow grapes and handcraft wines of interest and value that perfectly balance minerality, aromatics and fruit to reflect the exceptional Finger Lakes terroir. Each vintage is viewed as an opportunity to express the region — to reflect its soils, its cool climate and hillside lake terroirs.
Forge Cellars represents everything I and DouxVin love about wine – family owned estates, meticulous winegrowing and winemaking; organic farming and every single aspect is performed by hand – harvesting, sorting, pressing…everything.
The winery produces three Dry Rieslings. The Classique is their most important wine, and speaks of the terroir of East Seneca Lake, the style of Forge and the pure expression of each vintage. The Single Vineyard wine is a selection of a specific barrel lot where the vintage and the vineyard come together to express something special. The Les Allies is the result of meticulous barrel selection, where individual wines have evolved under natural, slow fermentation to reveal a unique personality and character.
2016 Forge Cellars Riesling Classique: bright medium gold. Lime zest, peach and fresh pear aromas segue to beautifully crisp, clean palate that focuses on ripe lime and mandarin flavors. This is indeed dry, with a refreshing minerality and lots of back-end depth. An outstanding Riesling that would pair well with Asian flavors and smoked salmon or trout.

2015 Forge Cellars Riesling Sawmill Creek Vineyard: only 100 cases produced of this terroir-driven wine. Medium gold, this has notes of dried honey and hazelnuts, with apricot and lime on the palate. Again, absolutely dry, with a rich mouthfeel framing steely minerality. This would pair well with fish dishes like trout or swordfish.

2015 Forge Cellars Riesling Les Allies: bright gold, with yellow highlights. This has notes of golden apple and tangerine, with an nice almond blossom overtone. This is brilliantly focused, with lime and tangerine flavors and a hint of nectarine. Again, bone dry, and that racy minerality lasts throughout the long finish.

These wines are stunning examples of Dry Riesling made with meticulous care. They are eminently drinkable today and will reward 3-5 years of cellaring, where their complexity and depth will emerge even further.
DouxVin is running a special offer on these wonderful Rieslings from Forge Cellars. There are very limited quantities of these wines available. We have a 3 pack available at one bottle of each wine - $75.00. Tax included and free shipping in the Bay Area. (buy here)