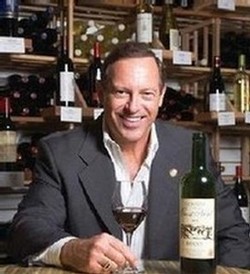 If you've ever wanted to hear firsthand from a Master Sommelier on the latest and greatest wines, you'll want to tune in to Peter's Picks. Every week, DouxVin's Peter Neptune will choose one wine to feature, diving into its origin, taste, aroma, and more. With regular exposure to countless wines at professional, trade and other wine events, Peter is constantly on a wine discovery journey that he would like you to share with him. DouxVin is focused on procuring wines that are eclectic, small-batch, and family-owned, so you know the wines featured on Peter's Picks will undoubtedly be interesting and distinctive.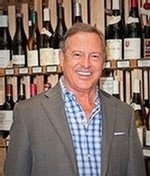 ​This week's Peter's Pick is a pair of wines from my fellow Sommelier and Author Raj Parr's Oregon project with famed winemaker Sashi Moorman; Evening Land Seven Springs Vineyard.
Since its inception, Seven Springs has been dry-farmed. The vineyard is LIVE™ certified and was converted to biodynamic viticulture in 2007.
Seven Springs is planted overwhelmingly to Pinot Noir, followed by Chardonnay, and Gamay. The oldest own-rooted blocks of Pinot Noir and Gamay are a testament to, and daily reminder of, Oregon's incredible history and potential. Benchmark Oregon producers have long sourced fruit from Seven Springs and the wines from this vineyard are the most decorated and award-winning wines in Oregon's history.
"We are, first and foremost, faithful stewards of the historic Seven Springs vineyard, planted by Oregon wine pioneer Al MacDonald in 1984. On this dramatic east-facing slope, in the iron-rich and rocky, volcanic soils of the Eola-Amity Hills, Al MacDonald undertook what would become one of Oregon's most recognized vineyards. Nestled against a forest of Douglas fir with views eastward to Mt. Hood and Mt. Jefferson, it is immediately evident to any visitor why Al chose this site."

– Rajat Parr, Sashi Moorman, & Ben DiCristina – Evening Land Vineyards
​

2016 Evening Land Seven Springs Vineyard Chardonnay: The Seven Springs Chardonnay underwent a very gentle whole cluster press before being racked to French oak barrels for fermentation. The wine remained in barrel, roughly 30% of which was new, for 12 months before being racked to tank. The wine completed élevage in tank for another 6 months before bottling. This is a gorgeous Chardonnay, with floral apple blossom and pear aromas, merging into a full, broad palate feel with hazelnut and lemon curd notes. This has depth and breadth, with a mineral length on the finish. This is one of the best Chardonnays I have tasted from the New World.
​
​

2016 Evening Land Seven Springs Vineyard Pinot Noir: The Seven Springs Pinot Noir comes from the oldest own-rooted blocks of Pinot Noir at the vineyard. Planted in 1984, these Pommard and Wadenswil clones thrive in iron-rich, volcanic Jory soils. These 30-year-old vines are harvested by hand, the grapes hand sorted, and roughly 75% of the fruit was destemmed. Gentle punchdowns were employed throughout the fermentation to encourage a soft extraction of tannins and the wine was aged in 30% new French oak for 16 months. The 2014 Seven Springs Pinot Noir was bottled without fining or filtering. Dark, spicy berry fruit emerges from the glass, with an enticing hint of sweet spices. The palate is full and deep with black cherry fruit framed by sweet tarragon notes and that
WE'VE PUT TOGETHER A SPECIALLY PRICED 6-PACK (3ea of Chardonnay and Pinot Noir) FOR $240.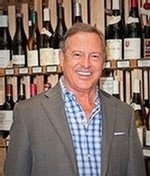 My Peter's Picks for this week are the extraordinary wines of Chateau Carbonnieux from the great 2015 vintage. The origins of this estate date back to 1234, and the Chateau was included in the Grand Cru Classification of Graves in 1959. The wines of this estate, both white and red, are among only six crus of the nine thousand estates of Bordeaux to bear this Classification. The estate farms sustainably and organically.
2015 Chateau Carbonnieux Pessac-Leognan Grand Cru Classé de Graves Blanc

The Garonne gravel found in the Pessac-Léognan Appellation certainly produces the best dry white wines in the Bordeaux region. This wine is a classic example of the genre. Made from 80% Semillon and 20% Sauvignon Blanc, this is a winner from the get-go, with lemon curd and vanilla aromas leading into a round, supple yet vibrant mouthfeel. Flavors dance across the palate, and the wine has both weight and brightness. Layers of melon, fig, and vanilla mingle with grapefruit and lime citrus. This terrific white can be drunk with incredible pleasure today or cellared for a decade or more.

2015 Chateau Carbonnieux Pessac-Leognan Grand Cru Classé de Graves

Thomas Jefferson visited the Chateau in 1786, and was so impressed by the red wine that he mentioned it in his diary. It is hard not to overdo my appreciation of this wine. It is a saturated ruby/purple, with a complex nose of blackcurrant, plum, mocha, fresh sawdust (love that smell!), sweet tobacco, and vanilla. The palate focuses on soft, chewy ripe fruit backed by smooth, ripe tannins. This is elegant and supple, smooth and refined. Outstanding wine in every respect. A blend of 60% Cabernet Sauvignon, 35% Merlot, and 5% Petit Verdot.
2015: The magic of "5"

Bordeaux remembers the mythical 1945, 55, 75 or more recently 85, 95 and 2005.

A perfect weather along the vegetative cycle allows 2015 to follow the ten-year legend for the marvelous vintages produced in years ending in "5".
I included the red in my choices for the "Explore" wine club last quarter, but I love the wine so much I wanted to make it available to all DouxVin customers.
-Peter Neptune, Master Sommelier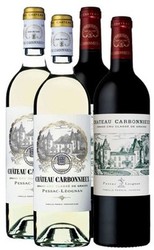 We put together a special 4-pack with 2 of each wine.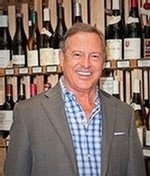 This week's Peter's Pick focuses on Darms Lane, a boutique producer located in the Oak Knoll District of Napa Valley. The vineyard was first planted in 1983, and the grapes were sold as Crighton Hall Vineyard grapes. The entire estate was acquired in 2002 by one of the partners, Larry Bump. The first Estate Grown wines were released in 2005. Today Darms Lane produces a total of 3,000 cases of wine. I tasted a few of their wines last week and thought that the Chardonnay and Cabernet Sauvignon were outstanding examples of Napa Valley wines at very attractive price points.

2016 Oak Knoll District Chardonnay: Attractive aromas of white peach, pear, brioche, and lemon zest. The palate is full-bodied and round, with vibrant citrus and tree fruit and a nice touch of vanilla from the judicious use of one quarter new oak. This lovely Chardonnay was barrel fermented and aged. Only 70 barrels were produced.

2014 Bon Passe Vineyard Cabernet Sauvignon: this has classic notes of black cherry and blackberry surrounded by cedar and cocoa, leading into a round, lush mouthfeel with those dusty Oak Knoll tannins framing the cassis and berry flavors. The wine saw 50% new oak and it shows as graham cracker crust and notes of chocolate. This Cabernet Sauvignon has a real sense of place and is a must for fans of this noble grape. Only 24 barrels were produced.
DouxVin 6-Pack Special
(3ea of Chardonnay and Cabernet Sauvignon)