February 26, 2019 |
Susan King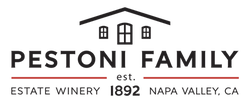 One of our favorite discoveries has been the Pestoni Family winery, and their Howell Mountain Cabernet Sauvignon. Founded in 1892 and now managed by brothers Andy and Greg Pesonti. The Pestoni Howell Mountain Cabernet is 100 percent estate grown on organic vineyards, at elevations that ranges from 1,600 to 2,400 feet. The rocky volcanic soils and weather conditions are challenging, but worth the extra effort as the vineyards produce wines with outstanding flavor, intensity and aging properties.
Susan King, Sommelier, tasting notes:
This 2013 vintage wine is aging exceptionally. It has a deep and concentrated dark bramble and dried blueberry notes with mocha and earthy qualities. No guess work as to where this Cabernet Sauvignon was grown. The structure and body of this wine speak of the Howell Mountain Appellation. This is an age worthy wine but also drinkable today. Pair with Prime Rib, or Filet Mignon with Black Pepper. This is a special bottle of wine, that celebrates a special evening.