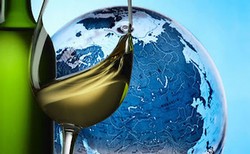 DouxVin 2020 Taste of the World Whites
Your $275 White Wine Collection includes one bottle of each:
ITALY: 2017 Suavia Monte Carbone Soave Classico. 95 Points.
A Gorgeous, elegant and complex Garganega from Veneto, this "earth in a glass" is a pure expression of the region's volcanic terroir and one of Italy's greatest white wines.
FRANCE: 2016 Xavier Monnot Meursault Les Chevalieres. 92 Points.
Chevalières is very stony and this wine typically displays a strong mineral character, firm acidity, and piercing tension; producing gorgeous Meursault aromas and flavors. A superb Burgundian Chardonnay.
PORTUGAL: 2016 Quinta de la Rosa Estate White. 17/20.
If you're not drinking Portuguese still wines, you're missing out on some terrific values. Composed of native grapes from old vines local to the region, this is an excellent refreshing aperitif, perfect with food and can easily be drunk with a wide variety of different foods from chicken to seafood and fish.
ARGENTINA: 2019 Zuccardi "Q" Chardonnay. 90 Points.
A superb high-altitude, cool climate Chardonnay from a legendary, award-winning producer. This balanced, elegant wine reflects its essence of place with expressions of local terroir and typical white fruit with notes of vanilla, white chocolate, and toasted bread. Discover something new from South America.
AUSTRALIA: 2018 Vasse Felix Heytesbury Chadonnay. 95 Points.
Arguably Australia's best white wine from "Winemaker of the Year" Virginia Wilcock. A rare, highly coveted gem, this gorgeous oak aged wine rivals Burgundy and Sonoma for richness, complexity and pure quaffing pleasure. A perennial DouxVin favorite.
SOUTH AFRICA: 2014 Babylonstoren Chardonnay. 90 Points.
From a "Wine Farm" dating back to the late 1600's, This is an excellent example of New World chardonnay and reflects the immense strides made in South Africa over the last 20 years in producing not only legendary Cabernet Sauvignon and Shiraz, renowned for hundreds of years but also new varietals to the region, ergo this wonderful Chardonnay.