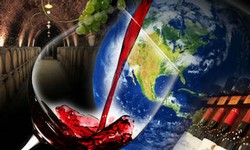 DouxVin 2020 Taste of the World Reds
Your Red Wine Collection includes one bottle of each:
SPAIN: 2014 Ferrer Bobet Vignes Velles Priorat. 97 Points.
DouxVin's Discovery of the year! A revered, highly rated 95+ point wine, the 2014 is a blend of Carignane and Grenache, from hundred-year-old vines in some of the best steep slate hillside and terraced vineyards in Priorat.
USA: 2017 Ghost Block Napa Cabernet Sauvignon. 92 Points.
For fans of the big, bold style one of Napa's greatest Cab values. This 94-point beauty features heady ripeness, with black fruit flavors bursting forth, perfectly suited to complement a diverse menu.
ITALY: 2014 Mastroberardino Turasi Riserva. 93 Points.
DouxVin's most popular red wine of 2010. Mastroberardino is one of the leading wineries and wine families in all of Italy in terms of production, market impact, and innovation. This is one single family with a winemaking history which dates back to the early 18th century, and which is largely responsible for the viticultural success of Campania's remote Irpinia area. A phenomenal wine. Grill up a steak and immerse yourself in this big, bold, chewy wine.
SOUTH AFRICA: 2018 Babylonstoren Nebukadnesar. 94 Points.
The flagship red form Babylonstoren, this meritage will transport you to the left bank of Bordeaux! Superbly crafted with good balance of vibrant multi-layered dark red fruits supported by tight, well-honed tannins. Opulent yet sophisticated with a long, compelling finish. Another great wine with grilled or braised red meats.
FRANCE: 2013 Henri Bourgeois "Les Baronnes" Sancerre Rouge. 92 Points.
A delicate, fragrant, Pinot Noir from Sancerre (not all great French Pinot Noir comes from Burgundy). Typical Burgundian Pinot characteristics are enhanced by freshness brought by the Loire river. Les Baronnes is ideal for your braised and pan-sautéed white or red meats. Glazed roast meats are a perfect match…. Pure pleasure.
PORTUGAL: Quinta do Noval Cedro de Noval. 92 Points.
From one of the oldest and arguably the greatest port house, this still wine from native grape varietals farmed since the 1700's, Cedro is named of the famous Cedar tree, emblematic of the estate. This lovely wine (with a touch of Syrah—another pioneering element of the winery) presents enormous charm and accessibility in an authentically Douro style.