Domaine Rebourseau Burgundy Dinner 2023
February 1 - 6:30PM - French Club
Please join Domaine Rebourseau proprietor Louis de Surrel and DouxVin to share a grand selection of exceptional Grand Cru and 1er Cru Bourgogne Rouge wines supplemented by Champagne, 1er Cru Bourgogne Blanc and Beerenauslese. We will be enjoying approximately 12 wines and seating will be limited, so please purchase your tickets soon.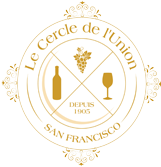 The French Club
414 Mason Street, Suite 801
San Francisco
When purchasing your ticket(s), please select "Pickup" as the delivery option.