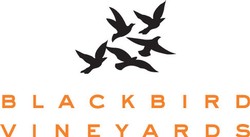 Blackbird Vineyards Premium Collection
3-Pack
Your Blackbird Premium Wines Collection contains one bottle of each of Illustration, Paramour and Contrarian. Feel free to order more than one 3-Pack at this terrific value for aged Napa; but there is limited availability—only 12 3-Packs are available.
2014 Blackbird Vineyards Illustration
Illustration represents the heart and soul of Blackbird Vineyards, challenging the notion that Cabernet Sauvignon is the greatest that Napa has to offer. A decadent Merlot-based with 30% Cabernet Franc and 10% Cabernet Sauvignon, dense black fruits, mocha and coffee beans give way to dried flowers and silky tannins. Opulent yet refined, Illustration is drinking quite well right now and will continue to develop for a few more years, should you choose to wait.
2016 Blackbird Vineyards Paramour
Cheval Blanc-inspired, Paramour is an ode to Cabernet Franc and its relationship with Merlot. Pott sources from four vineyards for a complete expression of what Napa Cabernet Franc can offer: Shiflett in Yountville, Crocker & Starr in St Helena, Hudson in Carneros and Stagecoach in the Eastern Hills. This is a magnificent wine. Rich black plums layered with mint, cedar, and violets. Refined black fruits and anise carry through on a long finish.
2016 Blackbird Vineyards Contrarian
Aptly named, the Contrarian stands apart from the Blackbird collection as the sole Left Bank-inspired wine. Flying in the face of their own conventions, Contrarian is predominately Cabernet Sauvignon with a portion of Cabernet Franc and just a dash of Merlot. This is the most powerful of the lineup. However, there is no shortage of balance and finesse here. Full bodied with tight knit tannins, black cherries, plum, currants, red rose, tobacco and earth abound. There is polish and style, density and texture. An impressive finale to this amazing trio.