Another DouxVin Burgundy Experience
6:00PM, Nov 6, French Club, SF, CA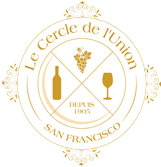 THE WINERIES:
Domaine Jean Grivot is among the great names in Burgundian wine. Étienne Grivot and his wife Marielle (Patrick Bize's sister) took over from Étienne's father Jean Grivot in 1987. The cellar is in Vosne-Romanée where most of their vineyards are located. The Domaine has been assembled over several generations to its current size of 15.5 hectares and includes holdings in three grand crus: Clos de Vougeot, Echézeaux, and Richebourg. Étienne's approach is to constantly improve the quality of the wines and he has been willing to experiment and evolve his work in the vineyard and cellar over the years. Today, the vineyards are densely planted and farmed organically "sans certification," while the aim in the cellar is for balance and clear expression of terroir.
Domaine Xavier Monnot is a 42 acre estate in Meursault with vineyards stretching from Beaune to Maranges in Burgundy's Côte de Beaune. Sixty percent of the Domaine's production is white with holdings in Monthelie, Meursault, Chassagne-Montrachet, and Puligny-Montrachet. Important white wine premier crus include Meursault Charmes, Chassagne-Montrachet En Remilly, and Puligny-Montrachet Les Folatières. Xavier believes in maintaining an average vine age of 30 to 40 years and practices lutte raisonnée ("reasoned struggle").
Domaine Michel Magnien has evolved into a Burgundy producer of a singular style and philosophy from their cellars located in the village of Morey-Saint-Denis. Michel Magnien was born in 1946 and worked alongside his father Bernard from a young age. The Magniens sold their grapes to the local cooperative until 1993 when his son Frédéric joined the family business and persuaded his father to bottle the entire harvest by themselves. Frédéric Magnien began experimenting with organic practices in the late 1990s and the entire production was certified biodynamic by Demeter in 2015. Frédéric has also evolved the style of the wines and today élevage takes place in only used oak and clay jars.

LE MENU:
Reception:
Champagne Leclerc Briant Brut NV
With Passed Appetizers
First Course
Maine Lobster Bisque
2017 Domaine Xavier Monnot Meursault "Les Chevalières"
2017 Domaine Xavier Monnot Meursault "Les Charmes" 1er Cru
Second Course
Black Truffle & Local Champignon Risotto à Lionel
2017 Domaine Michel Magnien Gevrey Chambertin Les Cazetiers 1er Cru
2017 Domaine Michel Magnien Charmes Chambertin Grand Cru
Third course
Duck Duo, Seared Breast & Leg Confit
2017 Domaine Jean Grivot Vosne Romanée "Les Beaux Monts" 1er Cru
2017 Domaine Jean Grivot Clos Vougeot Grand Cru
2017 Domaine Jean Grivot Echezeaux Grand Cru
2017 Domaine Jean Grivot Richebourg Grand Cru
Cheese course
Selection of French Cheeses
Dessert Course (TBA)
Quinta de la Rosa - 30 Year Tawny Port
The price includes tax & gratuity - for 10 Wines including Richebourg & Echezeaux