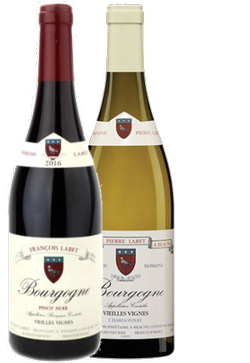 2016 Francois Labet Chardonnay/Pinot Noir VV Mixed 6-Pack
Château de La Tour, owned by Francois Labet who has directed both Château de la Tour and the family estate since 1984, is one of the most fabled wine producers in Burgundy, renowned for its exceptional Grand Crus from the famed Clos de Vougeout.
In response to a request to create a Bourgogne Chardonnay and Pinot Noir that would be accessible for everyday enjoyment, the Labet label was created by Francois in honor of his father, Pierre. All of the Labet wines are made at the family's estate; sourced from contracted old vine vineyards with complete oversight, receive the same attention as the Grand Crus and made with the same care and techniques as their Chateau de la Tour wines.
Was $360 a 6-Pack. Now $220
Sourced from Veilles Vignes, these are wines of purity, complexity, and freshness that punch way above their weight! Ordinarily selling for $60, the 2016 Francois Labet Pinot Noir and Chardonnay may be DouxVin's best current value opportunity.
Limited Mixed 6-Pack Offer Available
3 bottles each of Chardonnay and Pinot Noir
$220

As always, these curated collections reflect our "all-in" pricing strategy that includes sales tax and delivery.
Other Case Quantities Available!