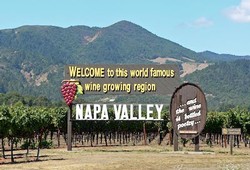 DouxVin 2020 Taste of Napa
Your Napa Valley Red Wine Collection includes one bottle of each:
2017 Lail Blueprint Cabernet (375ml). #1 Wine of the Year Wine Enthusiast Magazine.
Wine Enthusiast's Wine of the Year. Enough said. Nice winemaker description below from Philip (but what is an "olallieberry"?).
"Blueprint Cabernet Sauvignon 2017 is deep ruby with purple edges in color, with exotic aromas of ripe red plum, bittersweet chocolate, black cherry and loganberry. Spicy flavors of olallieberry, blackberry, and boysenberry add further intrigue and complexity. Its texture is round, lush, creamy, and perfectly balanced." Philip Melka, Winemaker.
2017 Ghost Block Napa Cabernet Sauvignon. 92 Points.
For fans of the big, bold style; one of Napa's greatest Cab values. This 94-point beauty features heady ripeness, with black fruit flavors bursting forth, perfectly suited to complement a diverse menu. "Wine of the Year" -Golden Gate Wine Society.
Yountville Founder George Yount is rumored to "haunt" the Ghost Block vineyards to this day, ensuring the highest quality yields year after year.
2017 Oakville Winery Estate Cabernet Sauvignon. 92 Points.
A perfect representation of the Oakville AVA's unique terroir. Part of the Ghost Block Family of wines, makes a great complement to the Ghost Block Estate Cab included in this collection. Grill up a 2-inch thick NY Steak and compare these wines for a truly pleasurable evening.
"Nicely rendered, with red and black currant fruit mixed with sassafras, sage and warm earth notes. There's good grip through the finish, while the fruit keeps pace, leaving a late echo of crushed currant and loam." Wine Spectator.
2015 Ramey Napa Valley Cabernet Sauvignon. 93 Points.
Ramey wines are pure California – rich in character, beautifully balanced, always of exceptional quality.
The 2015 Cab "Features a dense core of cherry paste and plum fruit, laced with a range of blood orange, plum pit, grilled savory and chalk notes. Tightly focused, with the fruit remerging steadily through the finish. Will cellar well." Wine Spectator.
2013 Swanson Alexis Cabernet Sauvignon. 91 Points.
Long a DouxVin favorite, Swanson Alexis represents one of the best values in Napa. This wine, especially with some age accumulated since 2013, punches well above its value weight.
"In the glass this wine overflows with aromas of blackcurrant, blueberries and plums underlain by more subtle secondary aromas such as cigar box and mahogany. On the palate this wine starts off soft, with black fruits and violets building in intensity as the flavors evolve eventually ending in a crescendo of complex layers and flavors including blueberries, graphite, rich earth and spice. This wine will age beautifully over the next 10 to 15 years." Robin Akhurst, Winemaker
2016 Robert Craig Affinity Estate Cabernet Sauvignon. 92 Points.
The 2016 (exceptional vintage) Affinity is a 100% estate grown, single vineyard selection from La Londe Vineyard. The primary mission at Robert Craig Winery is to produce wines that feature pure site expression. The soul of Affinity has always come from this premiere Vineyard and captures the essential, focused identity of this extraordinary site.